Advocate Spotlight: Sydney Barned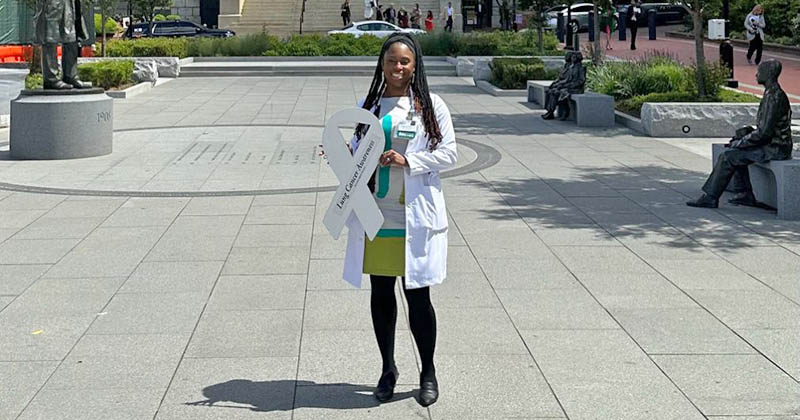 Meet Dr. Sydney Barned, a lung cancer survivor-advocate from Jamaica who currently lives in Maryland.
Sydney draws upon her unique experience as a physician and as a person living with lung cancer to help empower lung cancer patients and caregivers and to educate fellow healthcare providers and the public about the realities of lung cancer. 
Sydney is a doctor of internal medicine and a hospitalist. She was 33 years old and beginning her medical residency when she was unexpectedly diagnosed with stage IV lung cancer in February 2017.
Biomarker testing revealed that Sydney had ALK-positive lung cancer. She was able to take targeted therapy and remained NED (no evidence of disease) for over 5 years. Sydney says that was when she decided to "use her good fortune" along with her personal experience and her professional expertise to help others through advocacy.
Sydney has engaged in multiple types of advocacy. She has shared her story with policymakers, regulators, cancer researchers, healthcare providers, advocacy organizations, and the media. She has been interviewed for numerous print and digital media and podcasts. And she also uses her own social media accounts to raise awareness about the issues that impact the daily life of people with lung cancer.
The main points Sydney wants people to know about lung cancer are that it can affect anyone regardless of age, gender, and smoking history. She wants to help patients and providers know the symptoms and what to look for so that more cases of lung cancer can be detected and treated earlier. And she wants policymakers to increase federal funding for lung cancer research and remove barriers to access to care.
In March 2023, Sydney shared her experience and expertise during hearings in the Maryland Senate and House to support the passage of bills that will increase insurance coverage for biomarker testing. The bill passed in both chambers and the Governor signed the bill into law on May 3, 2023. Sydney was able to attend the signing ceremony in the Annapolis.
Sydney's advice for new advocates is to be open to trying different types of advocacy until you find the ones that are best suited to you. She says that learning from other advocates and advocacy organizations can be a great place to start.
To learn more about being an advocate, check out the LUNGevity Action Network at action.lungevity.org.