The Latest Lung Cancer Science: Highlights of WCLC 2023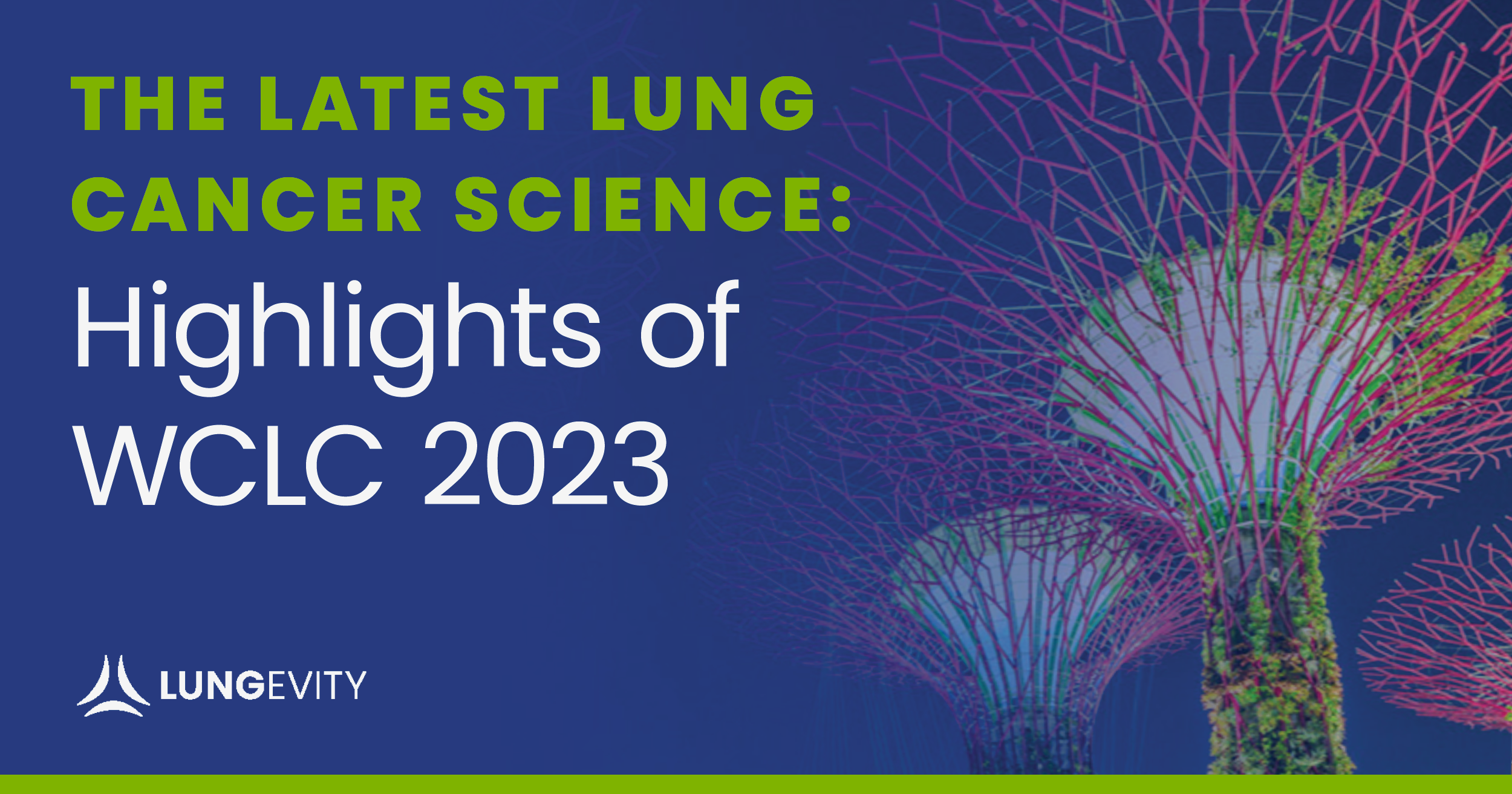 I had the privilege of attending the 2023 World Conference on Lung Cancer (WCLC) in Singapore with my colleague Dr. Bellinda King-Kallimanis. WCLC, the world's largest meeting dedicated to lung cancer and other thoracic malignancies, is an excellent forum for learning about the latest research into the early detection and treatment of lung cancer. Apart from the science, it was inspiring to see fellow advocates and network with brilliant researchers, all razor-focused on improving the outcomes and lives of people diagnosed with lung cancer. Major highlights of the meeting are summarized below: 
Small Cell Lung Cancer
Currently, a combination of immunotherapy and chemotherapy is used to treat extensive-stage small cell lung cancer (ES-SCLC), based on results from key clinical trials IMpower 133 and CASPIAN. Longer-term follow-up (five years) of patients in IMpower 133 reveals that patients who respond to a combination of immunotherapy-chemotherapy can have good long-term responses.  
We also saw data on a bispecific antibody that engages the immune system and binds to a protein called DLL3 that is found on the surface of SCLC cells. The drug helps "bring" T-cells from the immune system to SCLC and mount an immune response. Early results seem to be promising. Such DLL3 targeting drugs are being tested in ES-SCLC that has stopped responding to current treatment. In addition to DLL3, other targets such as CD276 are being explored. CD276 is being targeted using an antibody-drug conjugate. Early data from this drug seem to hold promise, and a Phase 2 trial is being planned.  
Early Detection and Screening
I have been attending the World Conference on Lung Cancer since 2015, and it's been great to see how the focus on lung cancer early detection and screening has been expanding in recent years. This year was no different!
Research on detecting lung cancer early in individuals who do not meet current screening eligibility criteria (both history of tobacco exposure AND age) has been expanding, especially in countries in Asia. Lung cancer has been on the rise in younger women in Asia, and screening studies in this population have revealed that a family history of lung cancer is a risk factor for lung cancer. While these studies have focused on communities in Asia, and there may be biological variations in this group of lung cancers that aren't applicable to all populations, this work is moving the needle in early detection and influencing screening studies worldwide.  
In fact, studies are now being carried out in the United States to test whether lung cancer screening with low-density computed tomography (LDCT) can catch cancer in individuals who identify as Asian and who do not meet the current screening criteria. Other ongoing studies discussed at the World Conference on Lung Cancer include the use of artificial intelligence (AI) to read lung scans that do not show cancer now, and then predict the development of future lung cancer and how frequently future scans should be done.  
Early-Stage Non-Small Cell Lung Cancer
Current treatment options for early-stage non-small cell lung cancer (NSCLC) include surgery for patients whose tumors are small in size and do not invade the chest wall. These patients may receive either neoadjuvant (before surgery) or adjuvant (after surgery) chemotherapy and immunotherapy.  
Now, perioperative chemo-immunotherapy (chemotherapy + immunotherapy before surgery followed by immunotherapy after surgery) is being considered, with the recent positive readouts of the AEGEAN trial with durvalumab and the KEYNOTE-671 trial with pembrolizumab. New data shows that the AEGEAN regimen did not change surgical outcomes, such as delayed surgery that can result in cancer progression and upstaging (increase of stage of cancer after surgery). These data are reassuring since concerns about progression are top of mind for the patient community.  
The role of radiation therapy in the early-stage setting continues to expand. For patients whose tumors are borderline operable (i.e., larger in size with spread to the chest wall), chemotherapy + radiation is often used before surgery. The INCREASE trial team combined immunotherapy with chemoradiation to study if this combination was beneficial to patients with borderline operable tumors. The INCREASE trial regimen was helpful in changing inoperable to operable tumors. These findings are promising, given that the combination of chemoradiation and surgery did not lead to more severe side effects.  
We also saw results of the I-SABR study in which combining immunotherapy with radiation improved outcomes for stages I and II NSCLC. Great to see multiple options for patients with early-stage lung cancer! 
Advanced-Stage Non-Small Cell Lung Cancer
So much is happening in this space that it's hard to do justice to the science in a single article. Let's start with first-line treatment options. We saw results of the LUNAR study that used a new type of treatment called tumor treating field (TTF) (very mild electrical fields that pulse through the skin on the chest and block a cancer cell's ability to grow) with immunotherapy, the current treatment for those patients with NSCLC whose tumors produce high amounts of the PD-L1 protein. Adding TTFs to immunotherapy seems to increase the benefits of immunotherapy. 
Another study, the EVOKE-II study, showed that adding an antibody-drug conjugate that binds to the TROP2 protein on the surface of lung cancer cells to the standard immunotherapy treatment seems to prolong the effect of immunotherapy. Similar effects of adding a TROP2-targeting antibody-drug conjugate to immunotherapy and chemotherapy improved the response to chemo-immunotherapy (TROPION-Lung04 study). All this is to say that scientists are working hard to expand the benefits of immunotherapy in NSCLC that does not have targetable biomarkers.  
Results from the FLAURA2 study in EGFR-positive lung cancer show that combining osimertinib with chemotherapy is superior to osimertinib alone, the current standard of care for this type of lung cancer. What this means is that combining a targeted treatment with chemotherapy may be delivering a one-two blow to the cancer. Whether this becomes the new standard of care remains to be seen, and patient preferences will need to be taken into account.  
Longer-term follow-up results of the TRIDENT-1 study looking at repotrectinib in ROS1 fusion-positive lung cancer show that this drug is not only active in the lungs but also seems to work in the brain, a common area where ROS1 fusion-positive cancers seem to invade.  
Moving on to the question of what's next after first-line treatment, the INSIGHT II study showed that a combination of osimertinib plus tepotinib (a drug that blocks MET amplifications) seems to work in EGFR-positive NSCLC that has stopped responding to osimertinib alone. EGFR-positive lung cancer cells often escape the effects of osimertinib by acquiring changes in the MET gene. The osimertinib-tepotinib combination is a potential regimen to consider if and when this happens.  
Another study, HERTHENA-Lung01, looked at the use of an antibody-drug conjugate targeting the HER3 protein in EGFR-positive lung cancer and seems to work in tumors that have progressed on current therapies such as osimertinib and chemotherapy. Two new treatment possibilities of tumors with EGFR-positive lung cancer! 
Participating in the STARS Program
The icing on the cake was participating in the STARS program (Supportive Training For Advocates On Research And Science) as a mentor, where I had the privilege of working with eight international patient research advocates who are dedicated to transforming advocacy in their countries. The STARS program is committed to training patient research advocates who want to be involved in bringing the patient voice to research projects. The last in-person STARS program was held in 2019 in Barcelona, and I was beyond excited to be part of this powerful group of advocates.  
The 2024 World Conference on Lung Cancer will be held in sunny San Diego, which will definitely be a shorter trip for me but certainly not lacking in science. Cannot wait!