LUNGevity Announces $1.2M in Lung Cancer Workforce Development Research Awards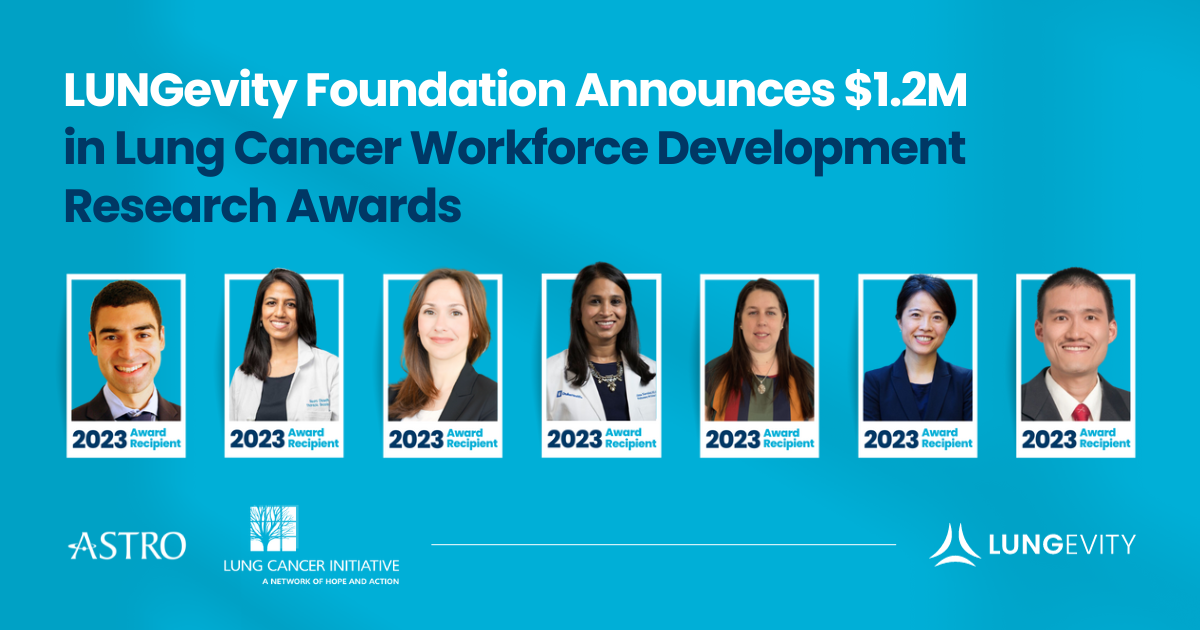 LUNGevity Foundation is proud to announce the recipients of four awards to bolster the lung cancer research workforce— the Career Development Award, the VA Research Scholar Award, the Health Equity and Inclusiveness Research Fellow Award, and the ASTRO-LUNGevity Residents/Fellows in Radiation Oncology Seed Grant.
"Progress in lung cancer research is only possible with a vibrant and diverse thoracic oncology workforce," notes Upal Basu Roy, PhD, MPH, executive director, LUNGevity Research. "We have to maintain a pipeline of excellent researchers from a diverse range of backgrounds to create programs of study focused on lung cancer that will improve outcomes for patients living with all stages and all types of lung cancer. Our Career Development Program, the first of our workforce development award mechanisms, was established in 2012. Since then, we have funded 36 awardees. Most of our awardees have become tenured faculty members or have leadership roles in pharma." 
Each of these four award programs has been carefully designed to address challenges and unmet needs in the field with the overarching goal of encouraging strong scientists to continue their work in thoracic oncology.
"LUNGevity's coveted Career Development Awards are our flagship workforce awards designed to support the careers of promising researchers as they establish their laboratories and build up enough preliminary data to effectively compete for larger federal grants," said Dr. Basu Roy. "Similarly, LUNGevity's VA Research Scholar Award is an important stepping stone for thoracic oncology researchers who are committed to improving the health of veterans and military families. And the award focused on radiation oncology will support early-career researchers interested in building innovative approaches to radiation therapy treatments for lung cancer."
Over the past few years, research has revealed strong disparities in patient healthcare that are often based on racial and socioeconomic biases. "These disparities can be mitigated by healthcare providers whom the patient relates to," Dr. Basu Roy explained. "This suggests that by increasing the diversity in our pool of nationwide thoracic oncologists, LUNGevity's Health Equity and Inclusiveness Fellows program can help improve the care patients receive."
LUNGevity received many strong research proposals this year. All proposals were thoroughly vetted using LUNGevity's gold-standard approach. Ultimately, the awardees were chosen based on scientific merit and potential impact on the lung cancer patient community.
LUNGevity's 2023 Career Development Award recipients are:
Noura Choudhury, MD 
Memorial Sloan Kettering Cancer Center
Randomized Phase II Trial of Iadademstat with ICI Maintenance in SCLC
In patients living with extensive-stage small cell lung cancer (SCLC), immunotherapy (such as immune checkpoint inhibitors, or ICIs) is often a second-line, maintenance treatment that utilizes the body's natural defenses to fight the disease. However, tumors often develop resistance to ICI treatments. Preliminary research suggests a protein called lysine-specific demethylase 1 (LSD1) that is known to regulate the immune system could be an effective target for reducing ICI resistance. Mouse models of ICI-resistant SCLC treated with a combination of ICI with iadademstat, an LSD1 inhibitor, compared to ICI alone demonstrated a benefit from the addition of the LSD1 inhibitor. The research team plans to conduct a phase II randomized clinical trial investigating the efficacy of combining iadademstat with ICI for patients living with SCLC.
Jaclyn LoPiccolo, MD, PhD 
Dana-Farber Cancer Institute
The Germline-Somatic Interaction in Young-Onset Lung Cancer
Although the average age of lung cancer diagnosis is 70, thousands of new lung cancers are diagnosed each year in patients under 45 years old, most of whom have never smoked. Given that younger patients develop lung cancer decades earlier without known environmental factors, Dr. LoPiccolo and her team are studying inherited genetic variations as a risk factor for developing lung cancer at a young age. The researchers have assembled a group of over 350 patients diagnosed with lung cancer at age 45 or younger and performed preliminary studies that showed that inherited genetic variations may play a role in lung cancer development. The team plans to continue this work to understand the role of inherited genetic variations to determine if inherited genetic variations affect tumor evolution or treatment outcomes.  
LUNGevity Foundation is honored to partner with the Lung Cancer Initiative (LCI) to co-fund Dr. LoPiccolo's project on the genomics of young-onset lung cancer. "Lung cancer has been on the rise in young individuals. We are thrilled to support Dr. LoPiccolo's project, which will answer important questions on how lung cancer develops in people younger than 45 years who do not have known risk factors," said Paige Humble, chief executive officer of LCI. "The project was selected through LUNGevity's rigorous science review mechanism and was chosen by the Board of Directors of LCI." The Lung Cancer Initiative is a leading nonprofit in North Carolina that connects the lung cancer community with the research and medical community.   
Diane Tseng, MD, PhD  
University of Washington and Fred Hutchinson Cancer Center 
Role of KIRs in Regulating Anti-tumor Immunity and Autoimmunity  
Checkpoint immunotherapy has been an exciting addition to treating non-small cell lung cancer (NSCLC). However, only some patients respond well to checkpoint immunotherapy treatment, and many patients experience immune-related side effects. Researchers require a deeper understanding of the immune system's role in fighting lung cancer and in causing immune-related side effects in order to develop more effective and less toxic checkpoint immunotherapies. A subset of immune cells, called CD8+ T cells, are sometimes known to have killer cell immunoglobulin-like receptors (KIR) and these cells are thought to help regulate the immune system. Dr. Tseng and her research team are studying these T cells that are positive for CD-8 and KIR proteins to better understand their role in immune cell activities, which could provide an approach to increase effectiveness of checkpoint immunotherapy and/or to reduce immune-related side effects.  
LUNGevity's 2023 VA Research Scholar Award recipient is:  
Neelima Navuluri, MD, MPH  
Durham VA Medical Center  
VA-CEDAR Tool for Equity in Lung Cancer Screening  
Lung cancer screening (LCS) provides an important opportunity to find lung cancer early when it is the most treatable. Despite LCS reducing the number of deaths among high-risk patients, relatively few patients participate in LCS programs such as the one offered by the Durham Veterans Affairs Healthcare System, and participation rates among communities of color are especially low. Many barriers to LCS exist, including fear of cancer diagnosis, patient mistrust, structural racism, and provider biases. Dr. Navuluri and her team plan to obtain input from a diverse group of veterans, healthcare providers, and community advisory board members to develop an electronic aid to encourage decision-making and easy referrals for LCS. The research team also plans to test this tool among patients and providers at the Durham VA Medical Center.  
LUNGevity's 2023 Health Equity and Inclusiveness Research Fellows are:  
Elliott Brea, MD, PhD  
Dana-Farber Cancer Institute  
TROP2 Directed CAR T in NSCLC as a Strategy for Eradicating Persister MRD  
TROP2, a cell surface protein normally present during fetal development and at low levels in some normal adult tissue, is found at elevated levels on a variety of solid tumors including NSCLC and has become an effective target for treatment.  The FDA approved an antibody drug conjugate treatment called sacitizumab-govitecan (which targets TROP2) in patients with breast cancer and urothelial cancer. This drug is currently being tested in phase II/III trials in patients with NSCLC. Dr. Brea and his research team aim to build on this work by targeting TROP2 with a different immunotherapy approach to improve the outcomes for patients with EGFR-positive NSCLC. Their preliminary data suggests that using CAR-T immunotherapy to target TROP2 may be effective in treating residual disease after targeted treatment with osimertinib in EGFR-positive NSCLC.
Maria Trovero, PhD  
Boston Children's Hospital  
Role of the RNA Modifier METTL3 in Lung Cancer  
METTL3, a protein that modifies RNA, is likely to promote tumor growth. Previous laboratory studies have shown that METTL3 activity promotes the growth, survival, and invasion of human cancer cells. Using lung adenocarcinoma models, Dr. Trovero and her team will explore the role of METTL3 in the development and progression of lung cancer by increasing and decreasing METTL3 levels. In addition, the researchers will study how METTL3 impacts early stages of lung cancer disease. If successful, the results of this study will establish METTL3 as a possible therapeutic target for lung cancer and improve our understanding of the role of RNA modifications in cancer biology.   
The 2023 ASTRO-LUNGevity Residents/Fellows in Radiation Oncology Seed Grant recipient is:  
Kailin Yang, MD, PhD 
Cleveland Clinic Foundation 
Radiogenomic Biomarker and Multiomic Data Integration to Predict Radiation Response in Lung Cancer 
Radiation therapy remains a cornerstone treatment for patients with locally advanced lung cancer; however, knowing which patients will respond and which will not respond to treatment is still poorly understood.  The goal of this project is to analyze genomic and radiomic data from patients with NSCLC to understand how tumors change during therapy and to create models to predict therapeutic response that will assist with clinical decision-making.  
LUNGevity is pleased to partner with the American Society for Radiation Oncology (ASTRO) for a second year to foster the careers of residents and fellows interested in radiation oncology research to benefit patients with lung cancer. "Radiation oncology is a critical part of lung cancer care, and we are delighted to continue our partnership with LUNGevity and support Dr. Yang's work to lay the groundwork for predicting patients' responses to radiation therapy," said Jeff Michalski, MD, MBA, FASTRO, chair of the ASTRO Board of Directors. "Radiation therapy contributes to 40% of global cancer cures, and more than a million Americans receive radiation treatments for cancer each year." ASTRO is the largest radiation oncology society in the world, with nearly 10,000 members who are physicians, physicists, biologists, radiation therapists, and other healthcare professionals who specialize in treating patients with radiation therapies.    
About Lung Cancer Initiative  
Lung Cancer Initiative is the leading nonprofit in North Carolina that provides support to the lung cancer community by connecting patients, survivors, and their loved ones with the medical and research community. LCI's mission is to advance survivorship and provide support to those affected by lung cancer through research, education, and access programs in North Carolina and beyond.  
About American Society for Radiation Oncology  
ASTRO's mission is to advance the practice of radiation oncology by promoting excellence in patient care, providing opportunities for educational and professional development, promoting research, and representing radiation oncology in a rapidly evolving healthcare environment.