Tackling the Biggest Challenges in Cancer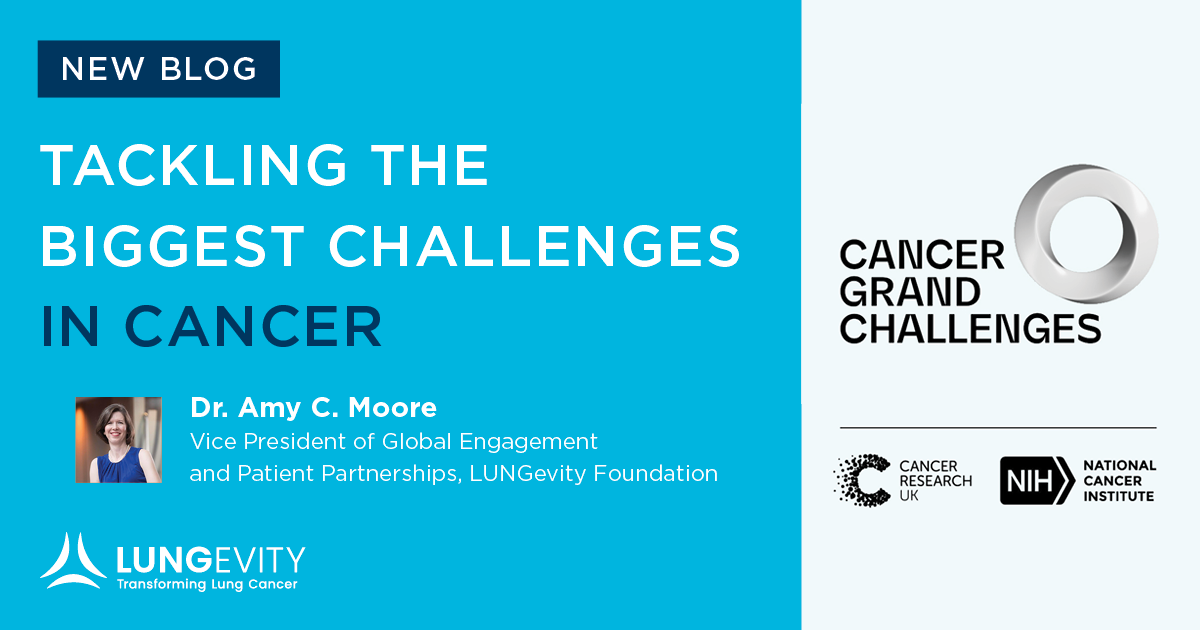 Cancer Grand Challenges is a partnership between Cancer Research UK (CRUK) and the National Cancer Institute (NCI), which funds global teams of leading researchers across various scientific disciplines to tackle some of the toughest challenges in cancer research. As Dinah Singer, Acting Director of NCI's Center for Strategic Scientific Initiatives says, "Cancer research is a global endeavor." 
As LUNGevity's Vice President of Global Engagement and Patient Partnerships, I recently attended the Cancer Grand Challenges (CGC) Summit March 8-10, 2023 in London. The CGC Summit featured an action-packed three days, with presentations by representatives of the ten challenges that are currently funded. These projects include efforts to understand underlying causes of cancer outside of known mutations, how to differentiate slow-growing (indolent) cancers from more aggressive ones, 3D mapping of tumors at the molecular and cellular level, studying the contribution of extrachromosomal DNA to cancer development, improving treatment responses by manipulating the microbiome, developing novel therapies for solid tumors in children, and more. 
LUNGevity is proud to be the founding advocacy partner of the CANCAN team (led by Drs. Eileen White, Tobias Janowitz and Marcus Goncalves), which received $25M in 2022 to address the challenge of cancer cachexia. Cachexia is characterized by extreme muscle and fat wasting, often in late stages of cancer. It is a debilitating complication of cancer, affecting as many as 8 million people with cancer globally every year. Currently, we are not able to predict who will develop cachexia and there are no effective treatments. Cachexia has a major impact on quality of life and can prevent patients from continuing with their cancer treatment. 
The goal of the CANCAN team is to address the challenges of cancer cachexia from multiple perspectives, integrating work from animal studies and human clinical trials to better understand the causes of cachexia so that we can develop effective and tailored approaches to improve the quality of life for cancer patients. Indeed, by identifying different subsets of patients with cachexia, we may be able to predict how it starts, leading to earlier detection. Furthermore, similar to how we now have different biomarkers for lung cancer, we may be able to identify different biomarkers for cachexia that enable us to develop more targeted treatments for this condition. 
On the first day of the Summit, I participated as a panelist in a discussion on global patient advocacy. This panel included two representatives from the NexTGen team, which is working to develop treatments for children with solid tumors, as well as Dr. Tobias Janowitz, one of the lead investigators for the CANCAN team. The panelists discussed how they are incorporating patient advocacy into their individual team efforts but also focused on how to foster collaboration across teams while effectively engaging more patient advocates from project conceptualization all the way through implementation. 
Finally, the nine newest "Grand Challenges" were announced during the Summit, including efforts to understand the role of obesity and physical inactivity in cancer development, why we are seeing an increase in various cancers in people under age 50, how cancer risk and outcomes are impacted by inequities, and the association between aging and cancer. You can learn more about the nine newest Challenges here. 
We look forward to keeping you updated on the CANCAN team's progress to understand cancer cachexia and to develop ways to detect it sooner and treat it effectively. LUNGevity is honored to be part of this global scientific community that is working to solve some of the toughest challenges in cancer research so that we can improve outcomes for all people around the world who are impacted by this disease.